Not only can you order your catering and products online,
you can now order your meal ahead of time!
Order ahead, so it's ready for you when you get here!
This service is currently being offered at our McKeown location, and will be coming soon to our other locations.
North Bay

North Bay Delivery -
Between 8am–10pm
Delivery service includes the outlined area below for a cost of $7.00. Twiggs will gladly provide delivery outside these hours and service area, upon request – please contact your local store to make special arrangements.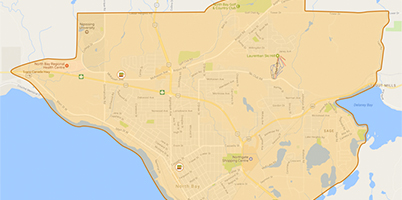 McKeown Location
ORDER ONLINEOwner: Meagan & Adam Twigg
501 McKeown Avenue
North Bay, ON

Fraser Location
ORDER ONLINEOwner: Laura & Matthew Twigg
473 Fraser Street
North Bay, ON
Sturgeon Falls

Sturgeon Falls Location
Online ordering coming soon... Please place your
catering order by phone for this location:
Owner: Kimberly & Adam Royer
300 King Street
Sturgeon Falls, ON
Sudbury

Sudbury Location
COMING SOON...
Online ordering
and store location
coming soon...